Updates
This site was constructed on April 18, 2003. I will try to keep it updated as to recent or upcoming activity.
The Flamingo Net held a 2m Vehicular Fox Hunt on Sunday morning September 23, 2018. The foxes, Phil and Ray, KI4DYS and KB4HAY, were hidden in Hollywood's Oak Lake Park, on NW 56 Street, between Sheridan and Sterling. The first finders were the team of Chip and CJ, KM4SJN, who came in after about 35 minutes. The team of Bill and Charles, WA4TEJ and KB4PFC, finished second about 10 minutes later. Stu, KD4JSD, came in later. Chip's new DFing receiver seemed to work quite well! The next hunt will be in late October or November. These hunts, like most of our events, are open to EVERYONE (not just Flamingo Net members), so come to the hunt and find out how much FUN they are!!
Our next free flea will be on Saturday morning November 17, 2018 in the Physics Parking Lot, 5101 San Amaro Drive, at the U. of Miami Coral Gables Campus. Talk-in on the K4AG repeater, 147.150 (+6, PL 94.8). The flea starts at 7:00 AM and goes to around noon.
A Picnic/BBQ will follow the Free Flea at noon on Saturday November 17, 2018. It will be held in Brewer Park, just west of the U. M. campus on Miller (just beyond 62nd Ave.).
The next Flamingo Net UPay4WhatUEat (UP4WUE) dinner will take place on Sunday Evening, October 28, 2018.
The Flamingo Net Field Day Event on Saturday, June 23, 2018 was good despite thunderstorms covering the area. Attending were KA4IQI, WA4TEJ, KK4TIO, KM4SJN and CJ, and KD4JSD, in order of arrival. See the What's new page for details
For location and driving information to any of our events, see the "What's new" page.
The April 2018 Flamingo / UMARC Free Flea .
Ways to contact The Flamingo Net

To contact us, either check-in on the air or e-mail me at wa4tej@juno.com . Fred, N4YQT, has set up a FaceBook page for us at
https://www.facebook.com/groups/FlamingoNet/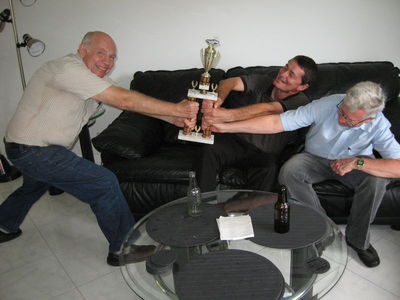 Fox Hunt 6/12/11 Debate over who found Fred first. Left to right: Bill (WA4TEJ), Ray (KB4HAY) and Phil (KI4DYS).